Dun an Oir Holiday Complex, Co Kerry, Ireland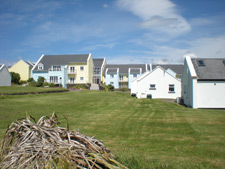 On behalf of Irish and Swedish owners, in the late 1990's Temple Bar Management was involved in the purchase of a redundant hotel on the Dingle Peninsula, one of the most naturally beautiful locations on the south-west coast of Ireland, the most westerly point in Europe. Planning permission was obtained from the local authority to convert the hotel into 21 apartments which were sold as holiday homes. Subsequently permission was obtained for the construction of a further 14 cottages.
The entire project including engagement of the professional and building teams and sale of the finished units, was managed by Temple bar Management.